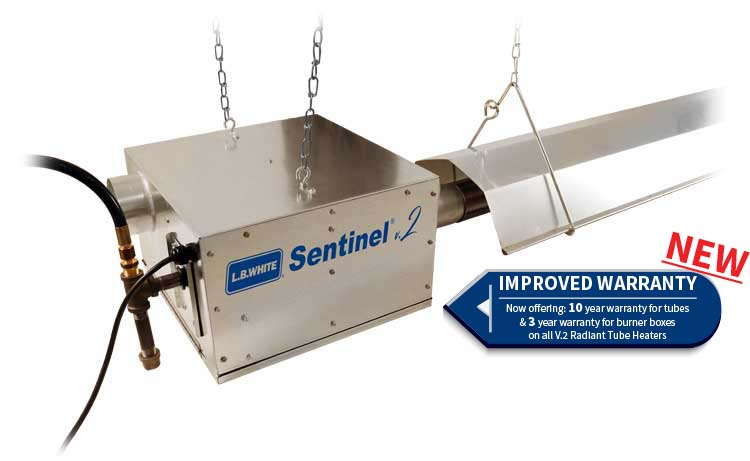 The L.B. White Sentinel® v.2 is the only radiant tube heater designed specifically for poultry houses. The Sentinel®s advanced reflector and pressurized burner design delivers maximum heat distribution out to the sidewalls as well as even heat down the length of the tube which gives more consistent heat coverage throughout the building. With interlocking tubes and self-leveling hangers included as part of a complete installation kit, the Sentinel® is extremely easy to install and even easier to maintain. The Sentinel®s ability to use fresh air from a side wall or attic helps it run cleaner and require less maintenance.
L.B. White has perfected every aspect of our Sentinel® v.2 radiant tube heater which is designed to withstand the harsh environments of poultry facilities. This has led to our reputation for reliability, durability and serviceability in the field.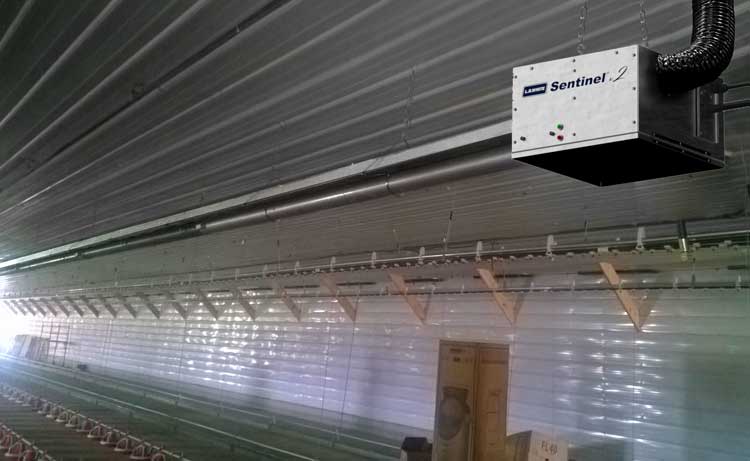 Key features of the Sentinel® v.2 Radiant Tube Heater for poultry houses:
30 foot, 40 foot and 50 foot tube lengths
A variety of models with heat output ratings from 100,000 to 150,000 Btu/h
Natural gas or liquid propane gas models
Choose from single stage or two stage models
Dependable spark ignition
100% test fired at our plant
Easy installation and maintenance
Determine size and quantity of radiant tube heaters for ventilated poultry houses and broiler houses
Call our technical experts to help you select the correct size and quantity of heaters for your poultry production enterprise.
Technical Support – 608-779-6160
When the fate of your flock is at stake, you need the leader in poultry barn heating systems protecting your investment—L.B White.