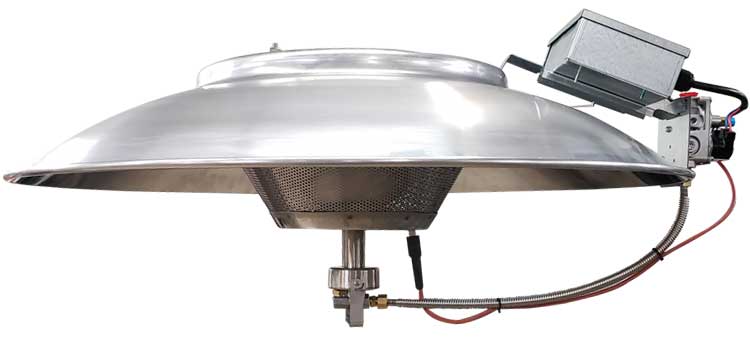 Low profile, energy efficient, far reaching heat is what is provided with the L.B. White L-40 radiant brooder. This low pressure brooder has a simple design, making assembly time much quicker than other low pressure brooders. Fewer parts and connections make repair easy.
L.B White's L-40 can be used to replace one or all competitive 40,000 btu/h brooders in a poultry house as connections match. Simply unplug the competitive unit and plug in the L-40 to utilize the consistent and far reaching heat pattern. No need to worry about gas type as all units ship with the ability to use either LP or Natural gas with the switch of an orifice which is stored on the unit.
Backed by L.B. White's 65 plus years of heating experience, technical know-how, and user oriented customer support, feel confident when heating your poultry house with the L-40 low pressure brooder!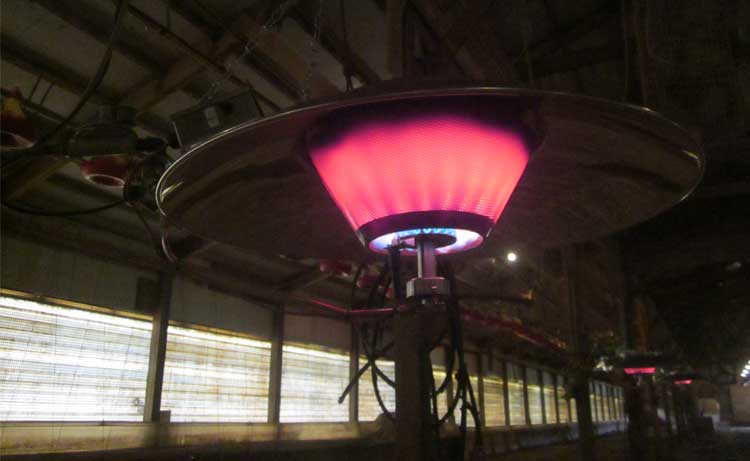 Key features of L.B. White L-40 Chick Brooder Heater for poultry production
40,000 Btu/h
Spark Ignition
Propane and natural gas dual fuel model
Low Profile
Wide heat coverage
100% Test fired
Components highly resistant to corrosion
Ship in master packs of 8
No filter - No additional accessories to clean!
L-40 poultry brooder heaters integrate with major poultry house control systems.
Certifications of the L-40 Chicken and Poultry Heater
L.B. White L-40 radiant brooder heaters help producers control poultry house climates and are available in CSA U.S. and Canada certified models.
Determine size and quantity of chick brooder heaters for poultry houses
Call our technical experts to help you select the correct quantity of L.B. White L-40 brooder heaters for your poultry production houses.
Technical Support – 608-779-6160
When the fate of your flock is at stake, you need the leader in poultry production heating systems protecting your investment—L.B White.