The Foreman® is a vented portable heater ideal for providing dry, clean heat into insulated spaces, work areas, heating docks or anywhere 100% clean air is needed. L.B. White's ductable Foreman® heater features a fuel-saving high efficiency heat exchanger, quiet operation, and high CFM. L.B. White has perfected every aspect of our portable construction heaters design to withstand harsh working environments. This has led to our reputation for reliability, durability and serviceability in the field. When the comfort and safety of your work crew is at stake… you want the leader in portable heating equipment for any commercial, industrial or construction job… L.B White.
Call our technical experts to help you select the correct size and quantity of portable heaters for your job site.
Technical Support – 608-779-6160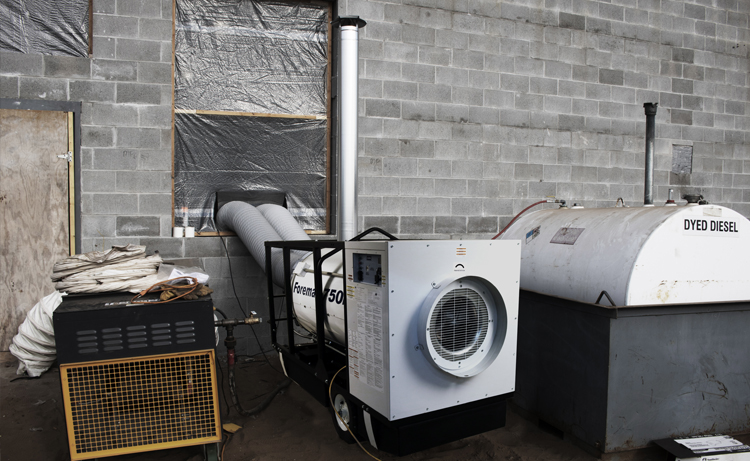 Key features of the commercial grade Foreman® Portable Gas Heater for industrial and construction sites
230,000 (Oil), 500,000 (DF & Oil), and 750,000 (DF & Oil) Btu/h models
LPG/NG dual fuel (switches with push of a lever) and Diesel models available
Air recirculation option
Ductable with 12" (x2) or 16" (x1) duct
Separate diagnostic light panels for burner and rest of unit
Dependable, electronic spark igntion
Stackable
Quiet burn with high CFM
Rugged, urethane wheels don't go flat, yet absorb bumps like pneumatic tires
Remote thermostatic control available
Optional rain cap
Optional steel exhaust pipe extension
Easy access rear panel for maintenance
Easy to transport with top lifting bale and bottom fork pockets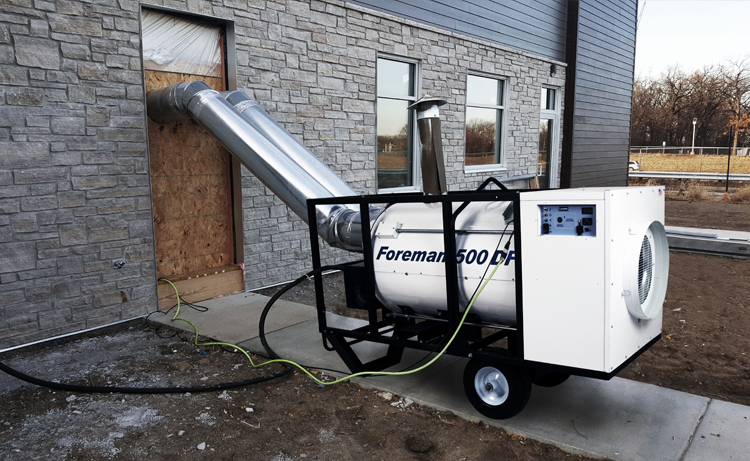 If you need help with proper heater sizing, please call our technical experts to help you select the correct size and quantity of heaters.
Technical Support – 608-779-6160