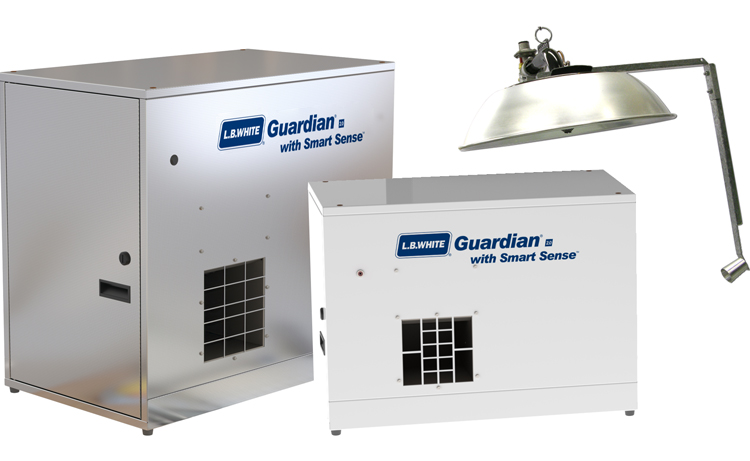 Smart Sense® - Automatic Variable Rate Heat - U.S. Patent No. 9,328,937
Smart Sense® is an auto control, technologically-advanced swine facility heating solution.
This innovative heating technology eliminates the inefficiency of conventional on/off heaters that require manual adjustments and always run at 100% Btu ouput. In comparison, Smart Sense® heaters are automatically managed through the facility control and operate at firing rates as low as 25% of maximum Btu output.
Smart Sense® generates only the amount of heat required to reach, maintain, and hold a desired temperature by automatically modulating Btu output—a proprietary technology engineered for L.B. White forced air heaters and radiant-heat brooders.
Automates building temperature management
Saves up to 35% in fuel costs
Maintains consistent room temperature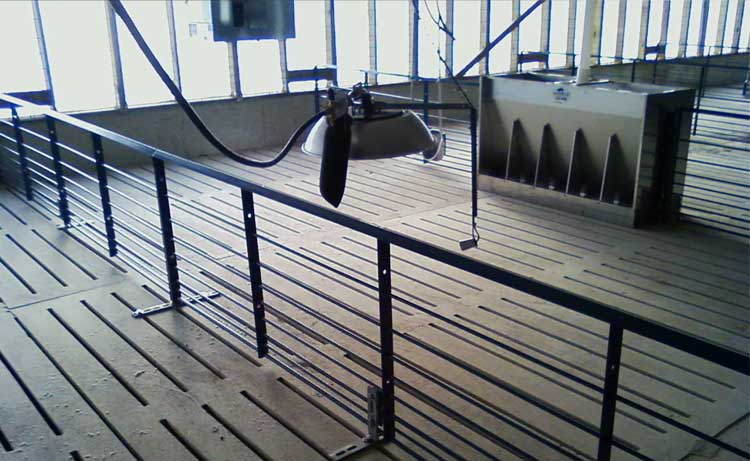 Environmental control integration
Smart Sense® automatic variable rate heat for hog confinement buildings now works with these leading environmental controls:
Smart Sense® manages pig building room temperature automatically
Smart Sense® automatically provides heat at only the rate required to reach a set point, and then maintains that temperature. This technology has been field tested across the upper Midwest with results that reflect significant increases in fuel-cost savings.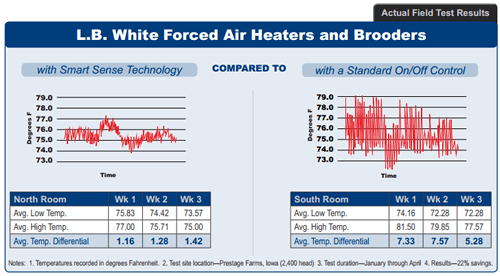 L.B. White Guardian Forced Air Heaters with Smart Sense®
Guardian® heaters with Smart Sense® provide an automatic variable-rate control, compared to manual control in today's standard Guardian® heaters. The Smart Sense® upgrade allows the heater to run longer at lower firing rates and become part of the circulation system. This results in a much more consistent room temperature.
Available Smart Sense® configurations:
15,000 to 60,000 Btu/h
25,000 to 100,000 Btu/h
65,000 to 250,000 Btu/h
Ignition types:
Spark Ignition
Hot Surface Ignition
Ignition Control Enclosure
All corners and seams are sealed with silicone
Liquid tight / air tight "pass throughs" are used for wiring entrances and exits
All terminations have 'flags'
Certifications:
Only L.B. White Guardian® heaters are capable of operating at firing rates as low as 25% of max Btu/h while maintaining acceptable carbon monoxide levels and ignition characteristics.
L.B. White Radiant Brooder Heaters and Smart Sense®
L.B. White Smart Sense® technology provides the ability to set and manage temperatures at pig level, independently of the ambient room temperature. Gain control of the pig occupied zone with Smart Sense® versus 3-stage or hi-lo control panels that are not controlled by precision-based technology.
Both standard manual and spark ignition I-17 brooders function with Smart Sense®
Fires at 10% of max btu output (17,100 btu/h).
Requires sensor mounting kits for existing and new installations
Operates with an existing 0-10 vdc control or with the SmartBox® controller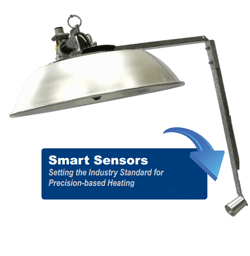 The L.B. White Smart Sense® Sensor is a critical component in our variable-rate heat technology. Our sensors are not restricted by a shield or isolator, and are less sensitive to wire length or gauge. Combined with proprietary control logic, the sensor is always locked into position by a bracket to achieve precise results based on suggested protocols and a desired swine pattern.
More info about Smart Sense® Heating System for pig buildings
Smart Sense® automatic variable rate heat technology for Pig Buildings can be used in multiple pig production phases, including: farrowing, nursery, wean-to-finish, and finishing applications.
For more information on our Guardian® Smart Sense® auto managed pig heaters and High Pressure Radiant Brooder heaters with Smart Sense®:
Call 1-800-345-7200 (toll-free) or 608-733-5691
Email customerservice@lbwhite.com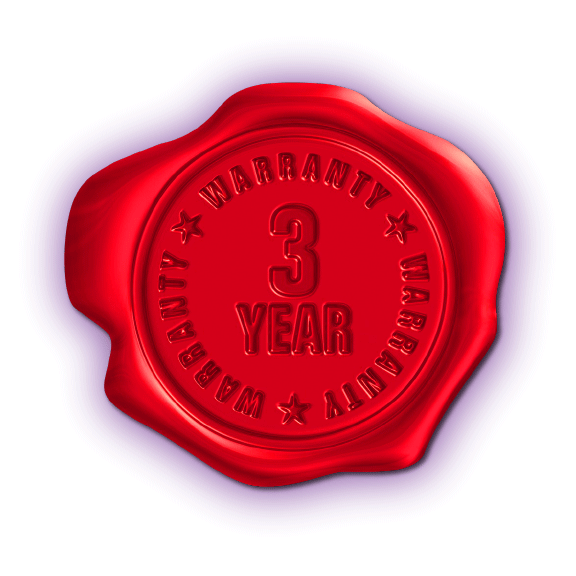 Unprecedented 3-Year Warranty
L.B. White is now offering a three year warranty on HSI and Spark Ignition Guardian® Forced Air Heaters placed in new swine houses. In order to take advantage of this great offer, please register your heater on our product registration page.