We offer a large selection of poultry facility tunnel doors for evaporative cooling systems.
State of the art cutting machine and press ensure consistency and precision throughout the manufacturing process.
All doors are UV coated for maximum protection from the elements.
Ecofoam® injected cores with reinforced fiberglass skins, resistant to harsh litter treatments.
A unique interlocking system that eliminates the need for stubborn H-Channels.
1 5/8 inch thickness with R-Value of 11+ & 1 inch thickness with R-Value of 8+.
Heavy duty aluminum hinges with stainless steel rods.
Custom sizes available to fit a majority of openings.
EcoFoam®
L.B. White Tunnel Doors exclusively use Ecofoam® insulation, which is the benchmark in environmental compliance and responsibility. Ecofoam® is the most robust rigid foam system on the market today, with unmatched performance proven superior in side-by-side comparisons to other systems. Ecofoam® also has no global warming potential (GWP), has no ozone depletion potential (ODP), and is VOC-exempt.
Environmentally Responsible

Zero Global Warming
Zero Ozone Depletion
VOC Exempt
EPA / SNAP Compliant
Marine Safe Ingredients
Formaldehyde Free
Urea-Formaldehyde Free
Penta-BDE Free
Asbestos Free
Montreal Protocol Compliant
Kyoto Protocol Compliant
Kigali Amendment Compliant
Standard heavy duty extruded aluminum hinge with stainless steel pin and wide leaf at bottom to prevent wood from splitting during installation.
The connecting rail is built into the aluminum cap. No aggravating H channels or extra parts to order!
Looking for tunnel door accessories? R Supply offers several winching and gasket options:
VISIT SITE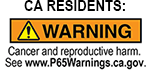 ---
PARTS & ACCESSORIES PRICING
Download a PDF file of the Ag. Parts and Accessories Price Book.
DOWNLOAD FILE
---
REQUEST A QUOTE
Enter your application information, and get in contact with a sales specialist or dealer near you.
GO
---
FIND A DEALER
Search for a dealer near you. Select and industry type and enter your zip code or choose a country.
LEARN MORE